The continuation of racing could have a significant upside for VALENTIA as soon as this Saturday.
The Anthony Cummings-trained filly Fayerra contests the G1 Champagne S. this Saturday and was bred at the famous South Australian farm and is by Cornerstone's first year stallion, Valentia.
She has proven herself a tough and consistent filly through her 2-year-old campaign, running fourth in the G2 Silver Slipper S. and G2 Reisling S. before a close-up third in last week's Listed Fernhill Mile.
"We have been really impressed by Anthony Cummings' faith in this horse. She hasn't taken a step back. She's ran fourths in big races. We thought her run on Saturday was full of merit and we are looking forward to what she does this weekend," Hayes said.
After an initial book of 95 mares in his first year, Valentia, who stood for $7700 (inc GST) in 2019, has struggled for numbers. Fayerra is one of three runners he has had to date from that first crop.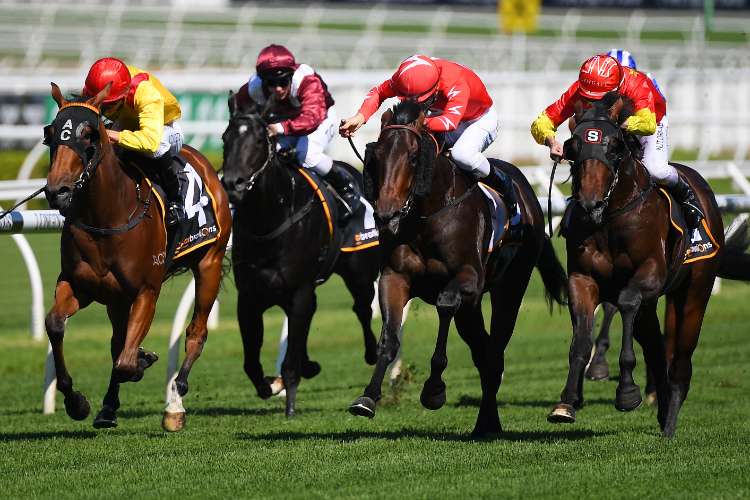 "We were worried about the numbers he covered and he hasn't covered big books. He's an extremely good looking son of Fastnet Rock and was a $1.35 million yearling, so we were hoping there would be a couple come out," he said.
"I am buoyed that one looks above average and a couple that we have seen trial have looked handy. For us, it could mean that with a 2-year-old and 3-year-old crop, he might surprise a few people on where he is at on the Sires' list this time next year," he said.
Fayerra was sold as a weanling by Cornerstone Stud at the 2018 Inglis Great Southern Sale, as part of a strategy to get a few of Valentia's first crop in front of buyers early.
"Being his first crop, we wanted to get a couple of nice weanlings out into the marketplace. We are very proud of our weanling sales credentials. We've sold some very good horses as weanlings, Gregers is a recent example," Hayes said.
"We treat the weanling sales as another yearling sale avenue. A lot of our weanlings sold are not horses we are culling, they are horses we like and because we are based in South Australia, we like to put horses by our stallions out into other markets."
The aim is to try and get those horses into stables outside of South Australia, and in this instance it worked with Fayerra initially purchased by Randwick Bloodstock for $20,000 and then re-offered as part of Coolmore's draft at the Inglis Classic Sale where Cummings paid $45,000 for her.
She now has the chance to put the names of both her stallion and breeder up in lights.
"We saw how busy Sidestep was on the back of one horse last season and it will be interesting to see, if this horse runs well again, what the interest in Valentia might be," Hayes said. "It's re-assuring for breeders at that price point to know that can get a top-class horse and this horse is top-class I think."
[/fusion_text][/fusion_builder_column][/fusion_builder_row][/fusion_builder_container]